Honda Accord Hybrid Revealed in Japan!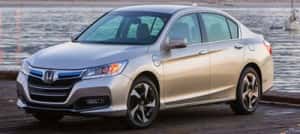 While the special Accord Plug-in Hybrid vehicle (pictured) has been increasing in popularity, Honda has been working on a traditional hybrid design for their popular sedan for drivers that don't need the extra charge that can come with the plug-in model. And it looks as though it could be coming soon, with the hybrid Accord just recently debuting in Japan.
What We Know About the Accord Hybrid
It's going to look different than the plug-in hybrid, to start off with. The Accord Plug-in already has a unique design to it, and it looks as though Honda wants to keep that specific to the slightly greener hybrid option.
The powertrain is supposed to be a 2.0L Atkinson cycle four-cylinder engine paired with a 124 kW electric motor combined with a 105 kW electric unit specifically for power generation.
Hybrid technology like regenerative braking, which enables some of the energy lost to friction to be recovered when braking, is a given, but beyond that, we don't know too much.
Until we know more, check out the 2013 Accord Sedan for yourself to get an idea of what you'll be able to expect from the upcoming hybrid. The 2013 Accord has been impressing drivers and critics left and right, winning awards like the Top Safety Pick+ from the IIHS and topping sales charts (the Accord was the top-selling vehicle in its class for April of 2013).
Features on the current Accord include amenities like Bluetooth connectivity, allowing you to stay connected while behind the wheel, alloy wheels, the Honda i-MID infotainment system, a rearview camera, and more. Better yet, you don't have to upgrade for those features; Honda has included them all at the basic trim level, encouraging drivers to rethink what it is should be included as standard in their vehicles.
Stay Tuned to Middletown Honda
If you want to have the latest information on new Honda models, bookmark our blog and come back regularly. We'll try to keep up to date with news on the new Accord Hybrid, but don't hesitate to drop by our dealership and chat with a sales expert to learn more.