Honda College Graduate Bonus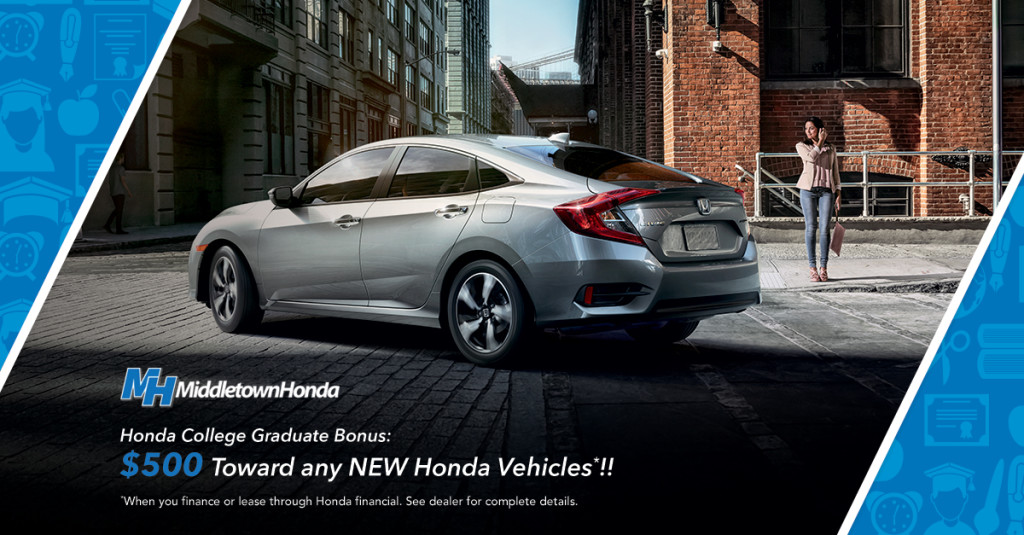 College Graduates Save Money at Middletown Honda
Graduates, you've got your degree in hand and your first real job lined up; the only thing missing is a new car, right? At Middletown Honda, we know many young adult drivers looking for a brand new Honda to make their lives easier. And let's face it, after four years of school, you've earned it!
That said, many of us finished our education just a few years ago and know what it's like to be fresh out of college: every chance to save money helps. Thankfully, we are able to offer Honda's Graduate Program to eligible college grads.
Getting the Most Out of Your Degree
When you went off to college, you probably thought of all of the different opportunities a degree will open up for you, but did you think that one of them would be "great savings on a brand new Honda?"
Take a look at some of the perks of the Graduate Program:
Save $500 on any 2016 or newer Honda Vehicle when you finance or lease with Honda Financial Services!*
Multiple leasing and financing incentives.
You can defer your first payment by as much as 90 days, with the first 60 days interest free.**
Start building your credit now! Starting off with a new car loan can help you show creditors that you are a trustworthy and reliable borrower.
We have flexible and competitive leasing options as well as finance packages for both new and Certified Used Honda vehicles.***
Did you graduate last year or the year before? You may still be eligible. The Honda Graduate Program is available to any driver who has graduated in the last 2 years—or will graduate in the next 4 months.
In order to qualify for the great savings offered by the Honda Graduate Program, there are just a few things you need to have:
Minimum 5% down payment on the vehicle you're wanting to buy
A commitment from an employer, complete with start date (within 120 days from the start of the financing agreement) or other proof of employment.
Proof of no adverse credit history
Proof of a degree—associates, bachelor's, or master's—from either a college accredited in the US or a registered nursing school
Cruise Toward a Bright Future in a Honda
To get started in the financing process, fill out our online application; that way we'll have your information on hand when you visit Middletown Honda to check out which Honda fits you best. Be sure to let us know that you're interested in taking advantage of the Honda Graduate Program to make sure you're able to get access to all of the benefits.
If you have any questions about the Honda Graduate Program, don't hesitate to ask. You can visit us in person or contact us online.
We can't wait to see you in the driver's seat of a brand new Honda.
SEARCH INVENTORY APPLY FOR FINANCING CONTACT US
Current Specials