The Honda Fit Performance Project is Building Up to the 2014 SEMA Show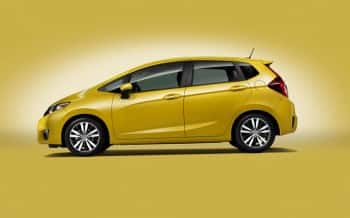 All eyes are on the 2015 Honda Fit — or rather, how the Fit can be personalized. The automaker is giving six different build teams a 2015 Fit to customize, putting their imagination to the test and letting fans be the judges. The contest will showcase how the Fit can be personalized to fit different driving needs and preferences, which will in turn show off the potential that lies with the Fit as a canvas.
Each team's progress will be tracked on Honda's Tumblr page, giving fans the chance to vote for the winner. The contest will come to an end when each of the teams' final creations will be showcased at the 2014 SEMA Show in Las Vegas.
The Teams
The six build teams have been selected and the competition is fierce: Bisimoto Engineering, Kontrabrands, MAD Industries, Spoon Sports USA, Tjin Edition, and Kenny Vinces are all performance shops that have been asked to participate in reimagining and personalizing the 2015 Honda Fit. Each team will customize their vehicle, refashioning things such as aerodynamics, body kits, custom paintjobs, and other things. Progress of each of the six teams' transformations and their process is documented through the Fit Performance Project (#ProjectFit) on Tumblr.
Judging
Honda selected the teams, but you, and others like you, will be choosing the winner. The team that earns the most likes and reblogs on Tumblr will be declared the winner and receive an award from Honda. At Middletown Honda, we're anxious to see what the six build teams have come up with. Join us in keeping up with the progress of the teams' work and vote for your favorite. And check back in to see the final projects when they're showcased at the SEMA Show.
See the 2015 Honda Fit at Middletown Honda
At Middletown Honda, we know that the contest is a fun and exciting way to showcase the fact that the 2015 Honda Fit is dynamic enough to accommodate just about any lifestyle or driving preference or need, whether it's the features, versatility, or efficiency that draw you in. Learn more about the 2015 Fit by visiting Middletown Honda today!