The First Honda Minivan With Vacuum Available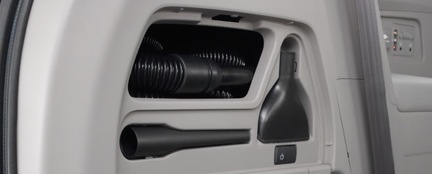 A Honda minivan with a vacuum inside? It may seem preposterous to many Mechanicstown drivers, but it's a reality with the 2014 Honda Odyssey. After all, Honda minivans have always stood out for their ability to meet the real needs of today's families. If you have ever been on a long road trip, had a car full of rowdy kids, or tried to manage a trip through the drive through, you know that flashy looks and powerful engines are not the primary concern for minivan drivers. It is a lot more important to have a space big enough for the whole family that is outfitted with features and technologies that make life easier for everyone. The engineers at Honda know this too, and that is why they have built a vacuum cleaner into the 2014 Honda Odyssey. Here's how it works.
Vacuum Up a Mess Anywhere, at Anytime
The Touring Elite trim of the 2014 Honda Odyssey features the HondaVAC, a vacuum that is built right into the minivan. There is no other minivan on the market right now that offers a technology like this. The system is housed in the rear of the vehicle, but the included hose is long enough to reach the front seats and beyond. Any mess that is sucked up gets sent to a storage container in the back that you can easily remove and empty. Imagine having a vacuum cleaner on hand the next time the kids are sandy from the beach, potato chips get spilled, or you need to clean the seats or floor on the go.
Honda Makes it Easier on Families
The HondaVAC is not the only family-friendly piece of technology included in the 2014 Honda Odyssey. Other available innovations include a seating system that lets you easily enhance cargo or passenger room according to your needs, a touchscreen display that makes navigation a breeze, a built-in refrigerator for keeping drinks cold, and an available widescreen display to keep the kids occupied. Honda knows the challenges of transporting the family, and they have filled the new Odyssey with smart features to rise to any occasion.
Try Out the HondaVAC at Middletown Honda
To really understand how easy this in-car vacuum system is to use and how helpful it could be, you need to try it out for yourself in this stellar Honda minivan with a vacuum built in. Head to Middletown Honda and find out why the 2014 Honda Odyssey is a better kind of family vehicle.