Honda is Innovating Driving Safety With Self-Braking Cars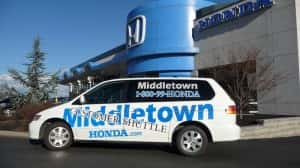 We'll never get tired of telling drivers how Honda is trying to make some of the safest vehicles on the road, and it seems that they are at it again. This time, Honda engineers are working on a new "city-brake" safety system.
Preventing Common Accidents
Do you know what the most common city accidents are? If you guessed "low-speed collisions," you would be correct (you can have some points for saying "rear-end collisions" too, as those are often very low speed).
Most of the time, these accidents are the result of distracted driving, something that Honda is already working to reduce with features such as Bluetooth phone and audio streaming and steering wheel-mounted controls for phone, audio, and more, but now Honda is working on reactive safety measures instead of just preventing driver distraction.
New Brakes Helps Predict Collisions
Their city-brake system works at speeds less than 18 mph and works based off of laser radar that's installed in the upper portion of the front windshield, which detects when a collision is coming. From there, the vehicle will have audio and visual warnings to alert the driver, and if they still do not come to a stop, the vehicle will apply the brakes for them, hopefully avoiding any collision.
Modern Safety Features
So, while this city-brake system might take a while to hit street-ready Honda models, Honda is already working on giving you some of the safest vehicles around. Some of their modern safety features include:
• ACE body structure designed to redistribute force and prevent damage to occupants
• An array of airbags set to protect driver and passengers
• Distraction-reducing features including Bluetooth, SMS voice text messaging, and steering wheel-mounted controls
• A rearview camera system
These features and more come standard on 2013 Honda models like the base-level Accord LX, Odyssey LX, and more, as Honda has made a move to offer a wide range of new standard features to drivers of their vehicles, pushing you to reconsider what it means for something to be "standard."
Drive Safe, Drive a Honda
Check out the new line of Honda vehicles here at Middletown Honda. We think that all it takes is a little time behind the wheel to see why many people choose Honda, so please come visit our dealership and take a test drive.