The 2013 Honda Odyssey is Family-Friendly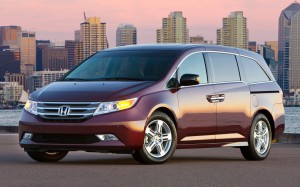 If you haven't heard the big news about the 2014 Honda Odyssey, we're going to spoil it for you: drivers can get a built-in vacuum at the Touring Elite trim level. It's pretty impressive and practical, and we're kind of surprised that there aren't more family vehicles with vacuums in them.
Of course, the Odyssey has a long history of serving well as a family-friendly vehicle, and the current 2013 model is no different. Let's take a look at everything you can find in an Odyssey that will make packing up the family and heading to Grandma's all the easier.
Built with a Family in Mind
Saying that the Odyssey is good for families might sound a bit like an understatement for those who have driven them. Once you're behind the wheel, it feels as though it was built specifically for families, which is exactly what it should feel like in a minivan. Here are just some of the available features Odyssey drivers can enjoy:
Honda DVD Ultrawide Rear Entertainment System- This is a big one, one that I'm sure many of our parents wish they had when we were growing up. There's no more asking "are we there yet?" There will hopefully be no more arguing over who touched who first. Just put on the kids' favorite cartoon or movie and drive in peace!
Lower storage with cool box- It's not too difficult to prepare for a trip these days, but if you want a cool drink or snack on the road, you either need to stop by a gas station or bring a cooler. Unless you've got a cool box to keep things chilled while you're driving. The Odyssey's available cool box can hold six 12-ounce cans or 4 20-ounce bottles.
USB Audio interface- Remember when you used to have to cart around a giant wallet full of CDs for a longer trip or be stuck listening to the same few songs over. And over. And over. Now you can just bring a compatible MP3 player or even a flash drive loaded with music for the road. Simple as that.
Just a Glimpse
Honda equips the 2013 Odyssey with a plethora of great features for families, and these three, while incredibly handy, are just the tip of the iceberg. Come by Middletown Honda and take a new Odyssey for a test drive to see for yourself!