The 2015 Honda CR-V is Motor Trend's SUV of the Year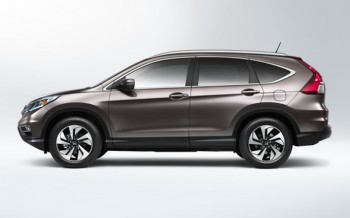 At Middletown Honda, we're thrilled that the 2015 Honda CR-V has been crowned SUV of the Year by Motor Trend, a decision reached after deliberation between nine judges. The CR-V has been a consistent seller, and we've been delighted by the number of Mechanicstown drivers who have chosen to drive one home. With Motor Trend's verdict, the industry sees what we already knew: that the 2015 Honda CR-V is a superb compact crossover.
The Winning Criteria
With its tremendous versatility, its impressive performance, and numerous safety features, the 2015 Honda CR-V easily does what it's intended to do for families in Mechanicstown and elsewhere: accommodate drivers and passengers in an efficient, safe, and comfortable manner. These are just some of the criteria Motor Trend considered in bestowing the honor of SUV of the Year on the 2015 CR-V.
A Closer Look at the 2015 CR-V
The 2015 CR-V is a dynamic vehicle with a powerful engine. Powering this crossover is a 2.4L engine with direct fuel injection; it produces 185 hp and 181 1b-ft of torque. The engine is paired with a continuously variable transmission that provides a smooth, seamless driving experience in a variety of conditions. The result is a combination of ease and precision that gives the driver the outmost in control and also increases the fun factor tenfold.
Efficiency is another area of strength. When equipped with two-wheel drive, the 2015 Honda CR-V is able to achieve 27 mpg city/34 mpg highway/29 mpg combined.* Drivers who choose to equip their 2015 CR-V with all-wheel drive will still get up to 26 mpg city/33 mpg highway/28 mpg combined.*
The 2015 CR-V is an Exceptional Choice
The CR-V isn't just dynamic when it comes to performance. The CR-V boasts enough room for the whole family and plenty of cargo, and the space can be reconfigured according to your needs.
We think you'll agree that the 2015 Honda CR-V is deserving of being named Motor Trend's SUV of the Year, but you need to experience it for yourself to understand what this vehicle can do.  The 2015 CR-V is available now at Middletown Honda. We proudly serve drivers from Mechanicstown and the surrounding communities, and we encourage you to visit our dealership and take a test drive!