Superior Safety Marks Out the 2017 Honda Civic Hatchback

Safety comes first with any Honda model, so you can expect the 2017 Civic Hatchback to carry the very latest protection technologies. The vehicle will make good on that promise, offering a vast array of airbags and stability control devices to ensure that you maintain complete control during each drive while knowing you'll be shielded from injury if an accident should occur.
From the celebrated body structure that forms the Civic Hatchback's core right to the advanced sensors and radars of the Honda Sensing suite, you'll have everything possible on your side.
Safety Engineering
The 2017 Honda Civic Hatchback was designed to exacting specifications. The engineering team aimed to ace crash test simulations and provide drivers across the country with unparalleled peace of mind, and they succeeded. The 2017 Civic Hatchback just returned from crash-testing conducted by the NHTSA with a perfect 5-star safety rating; that means 5-stars in each individual segment, as well as a 5-star overall rating*.
Competing vehicles, such as the 2017 Ford Focus Hatchback have failed to replicate those results, and it's all down to the ACE body structure. ACE stands for Advanced Compatibility Engineering, and it's a huge part of what makes the Civic Hatchback able to protect you and your family from harm. In the unlikely event of an accident occurring, crumple zones will move intelligently in order to direct impact energy away from you and your passengers.
Safety Features
You'll find plenty of safety features as standard with the new Civic Hatchback, including stability control, traction control, anti-locking brakes, Daytime Running Lights (DLRs), and hill start assist. Adding to that retinue is an exhaustive selection of high-end driver assistance technologies, which are collected together in the Honda Sensing suite.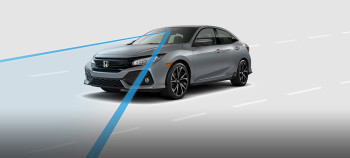 Adaptive Cruise Control (ACC) with Low-Speed Follow: Maintains a safe distance between your vehicle and the one ahead, even bringing you to a full stop and then getting going again with a tap on the throttle.
Forward Collision Warning (FCW): Scans vehicles in front of you, calculates if a collision is likely, then, when necessary, activates audible and visual alerts.
Collision Mitigation Braking System (CMBS): Provides automatic braking pressure if your fail to heed the Forward Collision Warning.
Lane Departure Warning (LDW): Provides an alert if you begin to deviate from your chosen lane without signaling.
Road Departure Mitigation System (RDM): Provides an alert if you begin to leave the roadway.
Lane Keeping Assist System (LKAS): Provides corrective steering pressure if you fail to heed the Lane Departure Warning.
The 2017 Honda Civic Hatchback is Now Available from Middletown Honda
Most shoppers already know about the thrilling drive and top-notch technology of the 2017 Civic Hatchback, but it's great to understand just how much attention has been devoted to safety. To find out more, just contact one of the team here at Middletown Honda today.